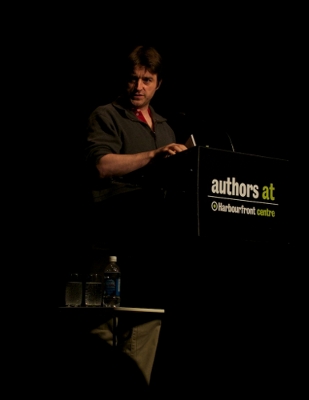 Rocco de Giacomo is a widely published poet whose work has appeared in literary journals in Canada, Australia, England, Hong Kong and the US. His work has just been accepted for publication in Descant and The Malahat Review, and has most recently been published in The Fiddlehead and Queen's Quarterly. Rocco's poetry has also been featured on the CBC. He is the author of numerous chapbooks including, in 2008, Catching Dawn's Breath. In 2009, his first full-length poetry collection, Ten Thousand Miles Between Us, was launched through Quattro Books. In 2010, Ten Thousand Miles was longlisted for the ReLit Poetry Award. In 2011, it was selected for Poetry NOW's 3rd Annual Battle of the Bards. Rocco lives in Toronto where he writes and participates on the council for the Art Bar Poetry Series.
You can order Ten Thousand Miles Between Us at any of the following links:
Click here for the Amazon.com page.
Click here for the Amazon.ca page.
Click here for the Chapters.indigo page.



This website has been created to not only advance Rocco's work, but that of others as well. Roccodg.com is a multidisciplinary venue, promoting music, visual art and the written and spoken word from local and international artists alike.
Rocco de Giacomo lives with his wife Lisa in Toronto, where they both spend the fall and winter months planning their next escape.
Click here to view his Curriculum Vitae.